After playing together for several years at charity and social events, Miguel, JoseLuis and Randy decided to build on their passion for soulful, energetic music that is performed from the heart.
Miguel Martinez - Guitar, Vocals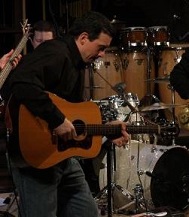 During his college years, Miguel performed in clubs such as the Coach House and Galaxy theaters in Orange County, CA, and Jack's Sugar Shack, Whiskey Agogo, Dragonfly, and others in Los Angeles. During that time as the front man for "Shook Up World", his band opened up for artists such as Keb Mo, Suzanna Hoffs, and NRBQ.
He has been performing with various artists in the Portland, Oregon area since 2000 at several venues including Kelly's Olympian, Mt Tabor Theater, McMenamins - Boon's Treasury, and Mississippi Pizza. He was also a finalist in the "Road to the Bite" songwriter/performer competition in 2007, performing in the finals at the "Bite of Oregon".
You can listen to Miguel's solo material as well as songs from "Shook Up World" here: MiguelMusic.com
Jose Luis Sosa - Keyboards
Jose Luis was born in Buenos Aires, Argentina where he studied classical piano at the prestigious Universidad Nacional de Rosario.
As the Chief Engineer of Rosario's legendary Big Audio Recording Studios, he recorded, produced and performed on countless projects: Pop, Rock, Jazz, Funk, Blues, Classical, Tango, Music for Theatre, Documentaries, etc.
In Portland he studied jazz with Randy Porter ("if you are going to learn something, learn it from the best").
He's had the privilege of performing and recording with some of the top artists in the area: Supraphonics (funk), Lindsey Reightley (powerhouse soul singer), Tom Wakeling, Cheryl Alex, Dave Iula (Jazz), Charles Patton, Paul Greenidge (gospel), Anastasia & Co. (pop), Mike Hohnholz (contemporary Christian), Brian Odell Band (jam/groove), Sutton Sorensen (Nashville resident recording artist). He also worked with some of the best studio session musicians in town, like Anthony Jones, Sandin Wilson, Shawn Lewis, to name a few.
"Overtime I have found some hilarious quotes, like 'there is no traffic on the extra mile' from Rickey Minor, or 'you done hired the hit maker' from Bernard "Pretty" Purdie. And nevertheless, I'd like them to describe me best". JL.
Randy Williams - Bass, Vocals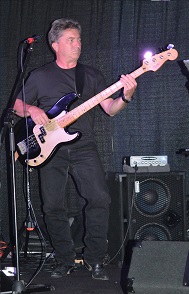 Randy studied piano for a number of years early in life, bass in Los Angeles with Don Haggerty (Taiwan Symphony bassist), Jerry Jemott, and guitar in the Northwest with Don Latarski.
He was signed as an artist/songwriter with Straight Ahead Productions (Tim Archer, L.A.) in 1983, and founded the band "Edge" to record and perform the material during development that was scheduled for release. Straight Ahead encountered financial problems and dissolved prior to the final recordings.
He was also one of original members of "Bridge" in L.A. (Steve Southworth), and played with Richard Bredice (Jules & The Polar Bears) in L.A., and several concerts as bassist for Gary Alongi (John Lee Hooker). Most recently Randy was a member of "The Rounders", a Portland based Texas blues band.
Darryl Stiff - Drums, Vocals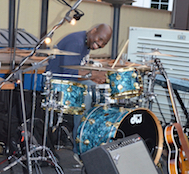 Darryl is an Oregon native who began developing his love for music early in life. As a child, he sang in choirs and played hand percussion instruments in church. He started playing trombone at age 10 in school orchestras and drum set by age 11. Two years later he found himself in California playing drums on his first tour with the Binnsmead Honor Choir. This tour included the performances at Disneyland.
This momentum lead him into four very musically active high school years where he rapidly developed his drum-set and trombone playing skills in a variety of settings. These venues included churches, schools, yacht clubs, restaurants, parades and recording studios with Portland area artists. While living in Memphis Tennessee he often played on the famed Beale Street and toured with Little Milton.
Since returning to Portland Darryl has continued to stay involved with music at church and with various local artists. He has also taken up the bass and song writing in order to produce inspirational music.